KLEPPER folding kayaks since 1907
Johann KLEPPER's dream: a kayak to go
In 1907 Johann KLEPPER, master tailor in Rosenheim, Germany, acquired the license from Alfred Heurich - the creator of the folding kayak idea - to exclusively produce the folding kayak named "Dolphin". Johann KLEPPER achieved his dream to design a kayak to go. But he also realized that the "Dolphin" was far from being a user-friendly kayak.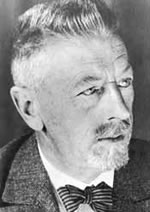 What began in an attic, evolved into a company of considerable size. When he started in 1907, he could probably hardly imagine that, 22 years later, he would be producing 90 folding kayaks a day and would have almost 2500 employees.
The folding kayak became the symbol of freedom and mobility, fostered by the beginning of the 20th century movement of hiking and outdoor activities. The folding kayak was also the catalyst of a new popular sport that appealed to the customer's need for freedom, adventure and thrills that drew more and more people under its spell. KLEPPER also eventually produced tents, outdoor clothing and gear and offered a full range of expedition equipment.
In addition to being well-known for expeditions to remote lakes and rivers, KLEPPER folding kayaks were also very successful on the sporting scene. During the 1936 Olympic Games KLEPPER folding kayaks won six gold, six silver and six bronze medals! In 1937, at the Paris World Exposition, KLEPPER folding kayaks won the "Grand Prix", the highest award for engineering. KLEPPER has, in essence, always been "leading the pack".